HK Hesin International Business Co.,Limited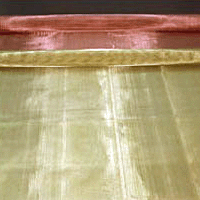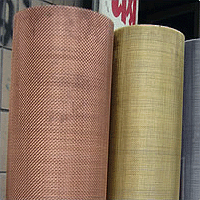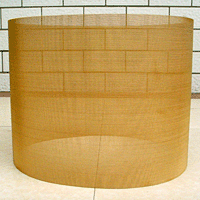 We can supply brass wire mesh (cloth), phosphor bronze wire mesh (cloth) and copper wire mesh (wire cloth). We provide good quality woven wire mesh and wire cloth in brass, phosphor bronze, copper, stainless steel and other alloy at very good price.

Brass wire cloth is frequently used in sieving diversified pellet, powder, porcelain clay and glass, chinaware printing, filtering liquid and gas.We are capable of supplying brass wire cloth from 1-200mesh, and phosphor bronze wire mesh from 1-450mesh. Width from 0.6m to 1.3m, length from 15m to 100m. The following specifications are listed for your reference. Brass wire mesh and wire cloth possess greater strength than copper wire mesh or bronze wire mesh. Copper wire cloth finds wide usage in traveling water screens, radio frequency interference shielding, sugar and marine applications.
| | | | | |
| --- | --- | --- | --- | --- |
| Mesh Wire Dia | Opening(mm) | SWG | mm | inch |
| 6 | 22 | 0.711 | 0.028 | 3.522 |
| 8 | 23 | 0.610 | 0.024 | 2.565 |
| 10 | 25 | 0.508 | 0.020 | 2.032 |
| 12 | 26 | 0.457 | 0.018 | 1.660 |
| 14 | 27 | 0.417 | 0.016 | 1.397 |
| 16 | 29 | 0.345 | 0.014 | 1.243 |
| 18 | 30 | 0.315 | 0.0124 | 1.096 |
| 20 | 30 | 0.315 | 0.0124 | 0.955 |
| 22 | 30 | 0.315 | 0.0124 | 0.840 |
| 24 | 30 | 0.295 | 0.0116 | 0.743 |
| 26 | 31 | 0.295 | 0.0116 | 0.682 |
| 28 | 31 | 0.295 | 0.0116 | 0.612 |
| 30 | 32 | 0.247 | 0.011 | 0.573 |
| 32 | 33 | 0.254 | 0.010 | 0.540 |
| 34 | 34 | 0.234 | 0.0092 | 0.513 |
| 36 | 34 | 0.234 | 0.0092 | 0.472 |
| 38 | 35 | 0.213 | 0.0084 | 0.455 |
| 40 | 36 | 0.193 | 0.0076 | 0.442 |
| 42 | 36 | 0.193 | 0.0076 | 0.412 |
| 44 | 37 | 0.173 | 0.0068 | 0.404 |
| 46 | 37 | 0.173 | 0.0068 | 0.397 |
| 48 | 37 | 0.173 | 0.0068 | 0.356 |
| 50 | 37 | 0.173 | 0.0068 | 0.335 |
| 60x50 | 36 | 0.193 | 0.0076 | - |
| 60x50 | 37 | 0.173 | 0.0068 | - |
| 60 | 37 | 0.173 | 0.0068 | 0.250 |
| 70 | 39 | 0.132 | 0.0052 | 0.231 |
| 80 | 40 | 0.122 | 0.0048 | 0.196 |
| 90 | 41 | 0.112 | 0.0044 | 0.170 |
| 100 | 42 | 0.012 | 0.004 | 0.152 |
| 120x108 | 43 | 0.091 | 0.0036 | - |
| 120 | 44 | 0.081 | 0.0032 | 0.131 |
| 140 | 46 | 0.061 | 0.0024 | 0.120 |
| 150 | 46 | 0.061 | 0.0024 | 0.108 |
| 160 | 46 | 0.061 | 0.0024 | 0.098 |
| 180 | 47 | 0.051 | 0.002 | 0.090 |
| 200 | 47 | 0.051 | 0.002 | 0.076 |
Home
|
About Us
|
Products
|
Contact Us
Add: NO. 1-1603, GuanLi Building, GuangAn Street, ChangAn District, Shijiazhuang, Hebei, China. ZIP: 050051
Tel: 86-0311-87703513 Fax: 86-311-66694800 Email:
sales@fence-sales.com
CopyRight @ Hesin International - mesh fence wire mesh manufacturer